01/15/2022 - Short story reading at Story Hour
Happy New Year! I'll be reading this 7PM PST, January 26th on Story Hour alongside Michael Merriam. Come join us on Facebook or Zoom for an hour of genre fiction!
10/09/2021 - Finches reading today & essay on John Scalzi's The Big Idea!
I'm reading from Finches at Alley Cat Bookstore & Gallery today. Please come by if you can! I'll be giving away three signed copies of my book to lucky attendees. An essay I wrote about one of the central ideas behind Finches also went up on John Scalzi's The Big Idea.


10/07/2021 - Interview with Paul Semel!
I was interviewed by the lovely Paul Semel over on his website about Finches. Check out the full text here.

10/01/2021 - FINCHES IS HERE!
Finches, my first book, is here! Vernacular Books put up a lovely announcement page for it with ordering information for Indiebound, Smashwords, Amazon and Barnes & Noble.
I'm having a book launch and reading at Alley Cat Bookstore & Gallery on October 9th, 2021 at 6:30PM! Join us at 3036 24th St. San Francisco, CA.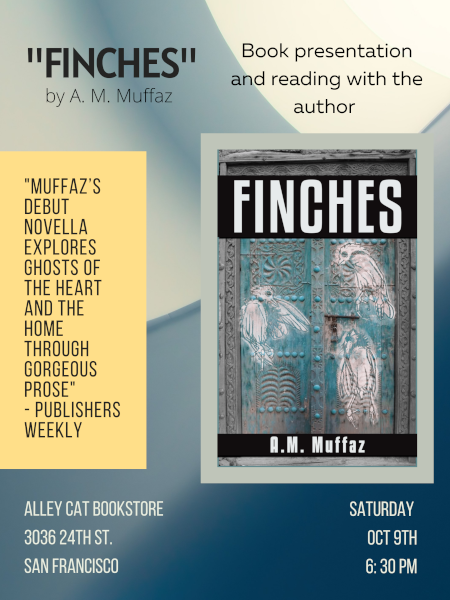 My brief introduction to Malaysia, the setting of Finches, is also available as a free electronic pamphlet. It may be downloaded via
this link.